2021 Ultimate Guide to Trade Show and Event Shipping
You've done the planning for this event. You have your timeline set, your sales and exhibition people ready, your display designed—but what about getting your materials from one place to another?
Shipping may not be at the top of the list of things you're taking care of, but it is absolutely critical for a successful event. You want to make sure everything gets to and from the event reliably and on-time. You want to plan your shipping ahead of time so everything can run smoothly.
If this is your first time doing event shipping, this might all seem overwhelming.
Don't worry— We have a guide for what you need to know about trade show and event shipping:
How To Make a Trade Show Shipping Plan?
When you are coming up with a shipping plan, there are some essential questions you need to be able to answer:
What are you shipping?
Consider your materials. You should have an inventory of all the materials you need to assemble your display, attract visitors, and support your sales team.
What is your schedule?
Your shipping provider will need to know the date and time for when they need to pick up the materials and when they need to arrive at the drop-off location.
What containers are used for trade show shipping?
You must be wondering what containers are used for trade show shipping. There's a range of options to choose from: in boxes, crates, hard cases, pallets, or a combination of all.
Make sure you also think about what additional equipment or manpower you need to move your materials to the truck!
Where are you shipping your freight?
You can ship your materials to the advance warehouse and/or to the show site directly.
Where do you get the paperwork?
Fun fact about event shipping: there is a surprising amount of paperwork involved. It is not always clear where to get all the applicable forms, so be sure to check where to collect forms for move-out at the show site.
Finally, what's next?
Do you have a plan for getting your materials back from the show? If you have another event coming up, it might be more cost effective to ship your materials there than back to the office.
What companies provide trade show shipping?
Now that you have the planning down, it is time to pick a shipping provider. You must be wondering what kinds of shipping providers are there, what companies offer trade show logistics, are there companies that offer international shipping…
We have broken down your options into three categories: the official event shipper, the "big guys," and event & trade show specialists.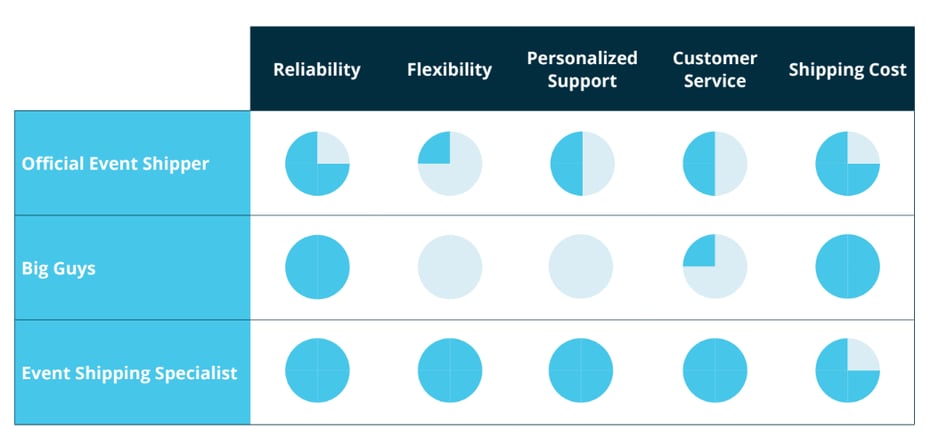 Official Event Shipper
Some trade shows will suggest an "official" carrier.
Pros:
Familiar with event schedule and shipping specifications
Cons:
Cannot guarantee consistent quality of service, level of customer support, and willingness to accommodate special requests.

Have to work with new carrier for every event—Meaning additional paperwork and on-boarding time.
Big Guys
These are the big shipping companies like FedEx and UPS that you might have used before to ship a few boxes and documents.
Pros:
Company may have used before—a safe an easy choice

Low cost
Cons:
Won't know the nuances of trade show shipping

Won't help with trade show logistics

Often won't make special accommodations

Due to forced freight, inefficient planning, service miscues and delays, you may actually have additional costs.
Event & Trade Show Specialists
These are smaller shipping companies that specialize in shipping materials to and from trade shows and events.
Pros:
Consultative services throughout the shipping process.

Excellent customer service and support.

Customized, comprehensive, and efficient.

Can repeat the process for future events.
Cons:
Might be higher priced than the "big guys"—However, event & trade show specialists will customize shipping solutions to be most cost-efficient and optimized for your situation.
For your first time doing trade show shipping, it can be incredibly valuable to have an experienced event & trade show specialist like Northstar guide you in making smart decisions about shipping.
Takeaways
Plan ahead of time and choose a shipping company that will help you succeed! If you need help shipping to your next event, please contact NorthStar for a consultation.